Shakespeare Theater of New Jersey
The New York Times "... Robert Gomes in a gripping portrayal."
Wall Street Journal "Mr. Gomes's febrile performance is so believable as to make you feel that he's earned the second chance at happiness that Shakespeare gives him."
Independent Press "Robert Gomes is heart-stopping in his initial love, his jealousy and eventual breakdown."
Packet Online "Robert Gomes spends the first act raging, the second act sorrowing — that we believe both is a measure of Mr. Gomes's superb talent."
Recorder Newspaper/Out & About "… Robert Gomes plays this part and he is excellent."
Shakespeare Theatre of New Jersey
The New York Times "On the positive side, the cavalier loutishness of Robert Gomes playing Iachimo ..."
Variety "Robert Gomes as the scheming seducer Iachimo registers distinctly."
Packet Online "Robert Gomes is a strong Iachimo, clever, calculating …"
Curtain Up " ... the most impressive performance from comely Robert Gomes, as the deceitful Italian. "
The Montclair Times "Robert Gomes has an easy command of Shakespearean verse — a valuable addition to the company."
Essex Journal " … seductively played by Robert Gomes."
Shakespeare Theater of New Jersey
The New York Times "Victor Prynne, as embodied by Robert Gomes, is a graceless man of limited imagination, as he should be. Imagine Bruce Dern as Tom Buchanan in 'The Great Gatsby,' only sweet."
Variety "Dandy support comes from Robert Gomes as Amanda's stuffy new husband, who defines pomposity with militant poise. "
Talkin' Broadway "Robert Gomes as Victor, the abandoned bridegroom, captures the foolishness and ineffectuality which make him a perfect foil."
Curtain Up "Gomes earns his share of laughs as the bellowing windbag Victor."
(Pictured with Carolyn Kozlowski)
Shakespeare Theatre of New Jersey
Variety "Robert Gomes defines the role of a preening ham actor ... "
Independent Press "Robert Gomes as Almady is especially hilarious ..."
Essex Journal "... the most uproarious performance delivered by Robert Gomes ... "
Curtain Up NJ "... as played with bravura narcissism by Robert Gomes ... "
Packet Online " ... by the second half he has the audience roaring with near hysterical joy."
(Pictured with Mark Jacoby)
Florida Studio Theater
Herald-Tribune "Gomes creates a wide-ranging portrait of Eric ..."
Sarasota Magazine (Nomination, Best Actor in a Play) "Gomes gave writer Eric Weiss the right mixture of doubt, confidence, loneliness and loss."
CL Tampa Bay "Fortunately, the actor playing Weiss — Robert Gomes — does a fine job of convincing us that he has intellect and passion and a healthy desire to be praised for his accomplishments."
(Pictured with Sage Hall)
Florida Studio Theater
Herald-Tribune "The heart of the play can be found in the tender performance of Robert Gomes as Stewart, the kind of brother anyone would want."
The Bradenton Times "... the measured contrast of Robert Gomes's affectionate turn as Alsop's endearing brother."
YourObserver.com "... played with his own gemlike flash of truth."
GeeksofDoom.com "Gomes is great and really sells himself as a true obsessive compulsive, especially when his illness is tested. The actor also nails his character's more humorous side, and his ability to make fun of himself."
DVDTalk.com "Gomes sells his mania nicely early on ... He makes Kip's disease a realistic mix of insanity and desperation ..."
DigitalConquest.com "... with Gomes being a real standout as the petrified and very human Kip."
Zach Theater
Austin Chronicle "... the actors perform the play gracefully, people who tangle themselves up in their own expressions, stumbling through their own best efforts to explain their feelings instead of just feeling them."
(Pictured with Meredith McCall)
Dallas Theater Center
The Dallas Morning News "Mr. Gomes turns in a finely shaded, more human performance … manages to make guilt seem so attractive."
(Pictured with Joseph Fuqua)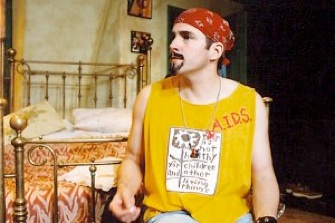 Other Side Productions
Backstage.com "... two gifted actors, [give] stellar performances..."
Off-Off-Broadway Review "The portraits of Douglas and Jean are very finely drawn, and as played by Robert Gomes and Ken Mason they are attractive, endearing, and beautifully flawed human beings."
Doric Wilson, TOSOS II "The cast and direction are perfect."